Our Mission
Vision International School is a gender-separate American-curriculum school committed to preparing students for the 21st century by providing an academic environment in which students learn how to collaboratively solve problems and learn independently. In addition, students learn to express themselves through the fine arts, athletics, and a wide range of activities and experiences designed to enrich their lives. We also seek to instill a sense of ethics, care and compassion for others.
Our Vision
Shaping local leaders and global learners
VIS aims to be a community that shapes local leaders and global learners by developing leadership skills, increasing global awareness, and by celebrating the culture and traditions of Qatar.
Expected Learning Results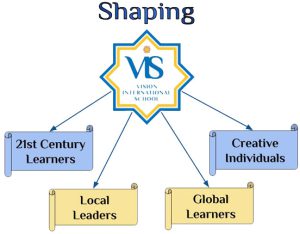 At Vision International School we aim at shaping:
Creative Individuals who:
use imagination and critical thinking to address essential questions
demonstrate intellectual curiosity both in and outside of school
develop self-esteem and self-expression through interaction with arts, sports, and the environment
Local Leaders who:
take initiative and demonstrate personal integrity
interact positively with others within the immediate and greater community
deliver on the promise codevelop Vision Pride in and out of the classroom
Global Learners who:
exhibit a broader view of the world by understanding and accepting diversity
are engaged and participating in collaborative activities with organizations from the wider community
model compassion and empathy for others
21st Century Learners who:
use information resources to extend their knowledge
communicate, collaborate, think critically and create using technology locally and globally
display digital citizenship, awareness, and skills